Here are the facts.
Here's a surprising stat: Application volume for construction equipment under $40,000 is only 7% off all-time highs.
App volume is also higher than it was in 2017 and 2019.
Why it matters: With all the talk of a looming recession, higher rates, and bank tightening, you might think that demand for construction equipment financing would be falling fast. But in many cases, it's growing.
Take a closer look: Here's the data application flow for 2023 construction-related assets under $40,000 compared to 2019, according to research firm Sawbux: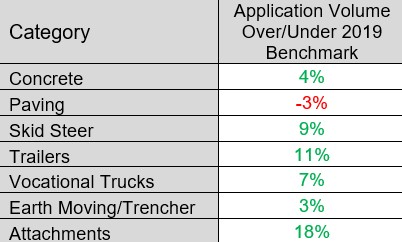 Takeaways for brokers:
The supply chain is healing. There is pent-up demand for equipment that was very difficult to source in recent years.
There is still record government funding of shovel-ready projects being deployed.
Many larger contractors have backlogs of work that are so full, smaller contractors are running into the void to keep work moving.
Banks are pulling back and cash positions are weaker, driving more demand for commercial equipment financing through vendors.
TimePayment can help. As bank funding becomes less flexible, TimePayment offers brokers a great solution for contractors seeking alternatives. We've helped over one million customers with transactions from $500 to $1.5MM+, and brokers rely on TimePayment for the speed, convenience, and technology solutions they need to grow.
Get started:
It's fast, easy, and free to sign up.
Approved brokers start with lease finance programs like $1 Buyout, Lease-to-Own, Fair Market Value, 90 Day Deferred, and our exclusive TurboLease.
Visit our Broker page if you want to learn more or contact us if you want to discuss how we can help your business.
*2023 Sawbux Greenwich Study of Commercial Finance Decision Makers