Don't assume you need to overcome a sales obstacle that isn't there.
False assumption: Customers are significantly less likely to do business with a broker than a traditional balance sheet equipment financier.
The real deal: In a survey* of over 2500 recent small business equipment customers, nearly 7 in 10 didn't show any preference to one type of provider over another. And almost 3 in 10 showed preference for a broker value proposition over that of a single credit policy lender.
By the numbers: Here is a breakdown by asset class: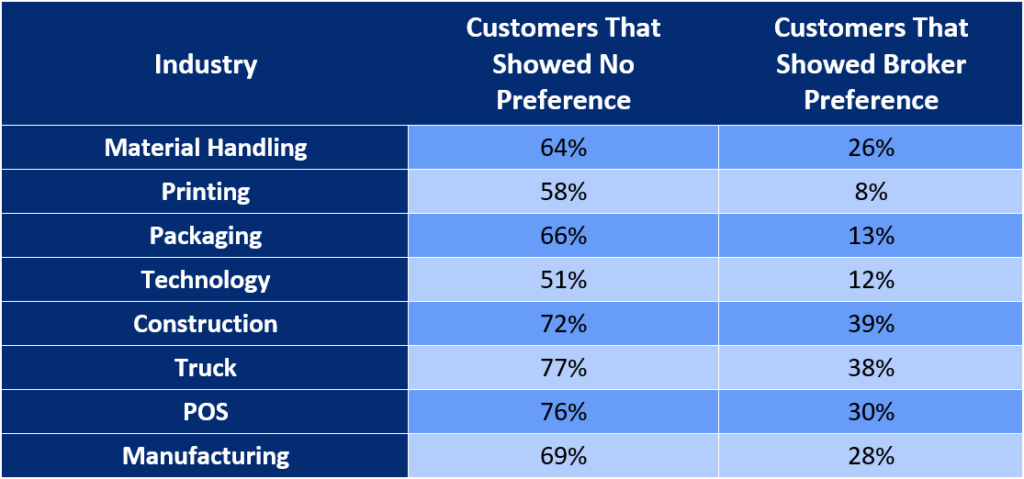 Takeaways for brokers: Most people just want the payment they need and care less about how it's done and who delivers it. It's also important to note which industries are leaning into a broker value proposition more than others.
TimePayment can help. We help brokers like you say "Yes" to more customers, by offering best-in-class equipment lease financing, industry-leading technology, access to API, and superior account service, training, and back-office support. TimePayment has helped over one million customers with transactions from $500 to $1.5MM+, and brokers rely on TimePayment for the speed, convenience, and technology solutions they need to grow.
Get started: It's fast, easy, and free to sign up. Approved brokers start with lease finance programs like $1 Buyout, Lease-to-Own, Fair Market Value, 90 Day Deferred, and our exclusive TurboLease. Visit our Broker page if you want to learn more or contact us if you want to discuss how we can help your business.
*The 2022/2023 Sawbux Greenwich Study Of Commercial Finance Decision Makers